Getting your daily dose of physical activity is going to be hard to cram in your busy schedule. One way or the other, you are going to need to find a way to exercise without having to go out and spend a lot of time. In most cases, the probable choice would be equipment in one's home like a treadmill.
In the current market, there are a lot of product choices varying in price and features. Though, it is advised to stick with brands that have made a good track record of their products like ProForm. After years of existence in the market, ProForm has a series of choices, whether you are simply aiming for physical fitness or training for an upcoming marathon. In terms of price, there are ones that do not break the bank while there are versions for people who are willing to spend more.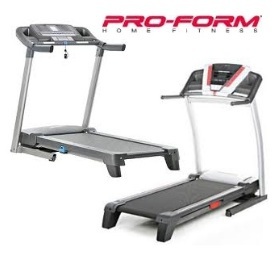 Regardless of the model, new or old, ProForm delivers generous warranty deals that could last as long as three years. This is to ensure to customers that their products are of high quality and can withstand hundreds of miles worth of running. In addition, if you have problems with assembly, customer service will gladly help you out.
One of the reason why ProForm is part of the top treadmill producers is because they know what their customers need.
Running stationary for hours is nowhere near fun compared to outdoor jogging. Based on this, ProForm mounted gadgets to their treadmills that will help you leisure yourself while you exercise including an onboard Android-powered touchscreen and MP3 capability. This will ensure that you last longer as well as allow you to multitask. Imagine yourself being able to exercise while you watch a Youtube video, check your emails, and surf the net.
If you really want to get serious with being physically fit, a ProForm treadmill is the most suitable to buy. Other than durability for long term unending usage, it has the necessary features to keep you motivated and going. Most models are equipped with iFit, a fitness application where a series of exercise regiments can be followed. This allows for variation and eliminates boredom due to repetitiveness. Losing your breath? Do not worry, there are cooling fans to cool you just enough to eliminate the discomfort of fatigue while still allowing you to sweat.
Nevertheless, the company has its fair share of disadvantages like its much pricier products. If you compare one of their models to a similarly designed and equipped version from a different company, there is an obvious price difference. This money goes to better customer service, warranty, and product durability, in short, you still get the worth of your added expenses.
Before you get too excited in buying your first treadmill, first seek the advice of a doctor, health or fitness professional. Jogging or treadmill-related exercises are not for everybody, continuous impacts have an effect on knees, ankles, back, and other related joints which makes it not suitable for people with joint-related diseases as well as the elderly, not to mention the overweight. A disadvantage for treadmill equipment in general.